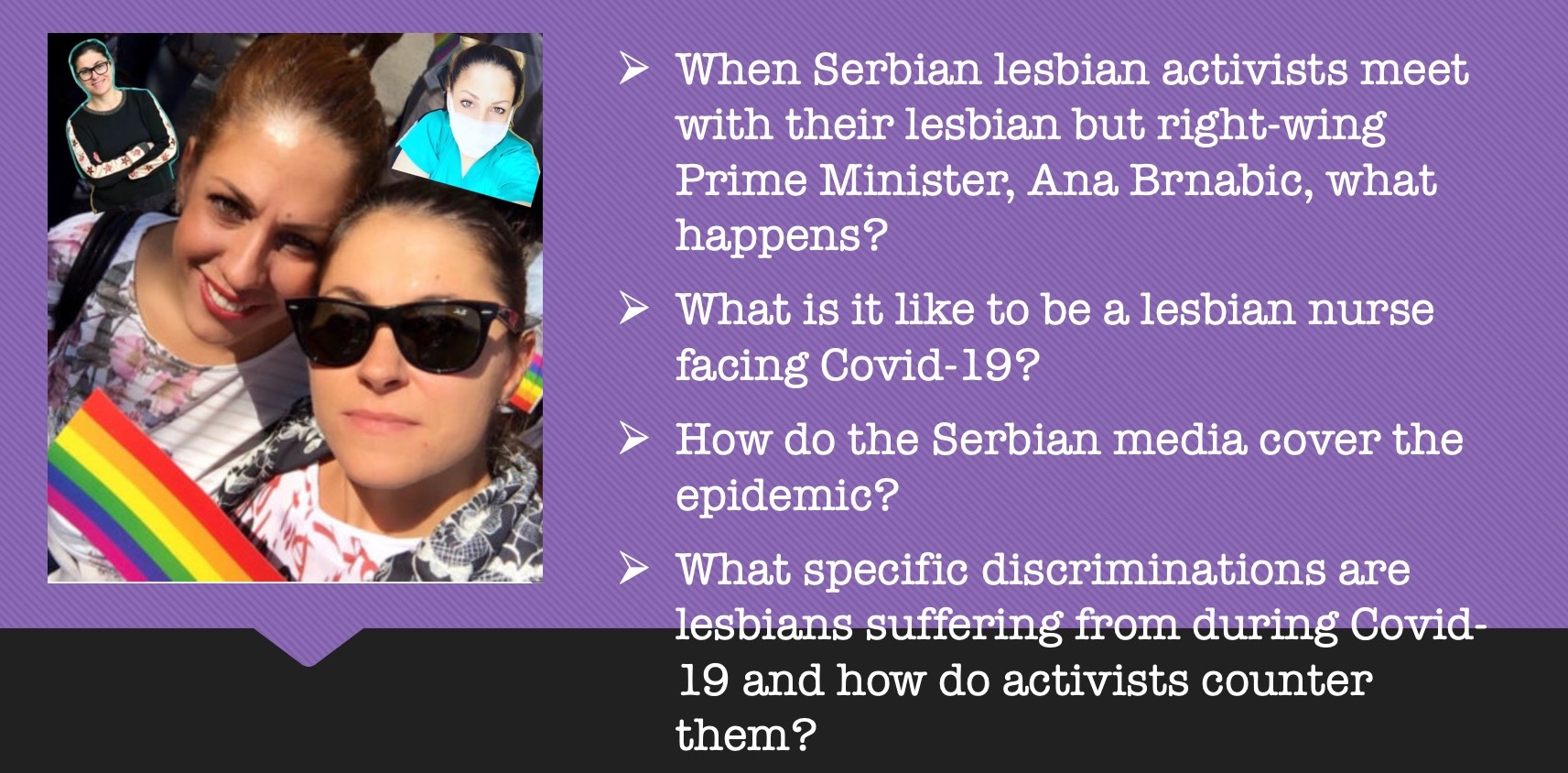 Milena Marković, a nurse in a centre dedicated to the fight against the disease, and Dragana Todorović, co-executive director for development of the Eurocentralasian Lesbian* Community (EL*C), join us in reviewing the situation of lesbians in their country and in the region, and address the difficulties they face during this pandemic .
(This interview was first published by the French Association of LGBTI Journalists. The questions are from Marion Lefèvre. The translation is by Alice Coffin with the help of DeepL, aptly named translation site).
What is the situation for lesbians in Serbia and the Balkans?
Dragana Todorović: Today it is still very complicated for lesbians and more broadly for LGBTI people in Serbia and the Balkans. Lesbophobia is very strong there. On average, more than 70% of the population thinks that being gay is a disease. Almost every second a lesbian in the Balkans is a victim of psychological or physical violence. Throughout the region, lesbians do not have access to medically assisted procreation. Yet since the 1990s, lesbians have been at the forefront of women's rights and peace movements. One of those early organizations, LABRIS, was founded in Belgrade and is still active today. But it is the exception that proves the rule: in other countries, lesbian organizations have little power. Many of them have had to close down due to a lack of funding. Today, the issue of lesbian rights and interests is very little visible and in our societies, even within the women's rights and LGBTI movements.
In Serbia, the situation is paradoxical as we have a lesbian Prime Minister [Ana Brnabić]. But she belongs to a right wing party [the Serbian Progressive Party] that does not campaign on human rights, LGBTI rights or women's rights. One can however imagine, hopefully having a lesbian in government will positively change the attitudes of the conservative supporters of that party. Milena has been in personal contact with the Prime Minister, perhaps she will talk about it better than I do.
Milena Marković: I don't see the situation the way Dragana does, because I'm not working as an activist, surely. I don't have any problem in Serbia to be a lesbian… Except with my parents! (laughs) I understand that for other people, however, it is complicated.
And yes, I met the Prime Minister because I wrote to her five or six months ago to ask her to help me create an organisation for gay and lesbian families, because we have many who have contacted us to ask for help. I'm the only person she wrote to about LGBTI rights.
DT: Yes, a lot of LGBTI organisations have written to her in the last few years, but she has only replied to Milena. They have exchanged several emails…
MM: And one day she invited me to meet her. I went, I wasn't prepared at all… We had an interesting conversation, I enjoyed it. She was very open and ready to talk about the situation in the country for LGBTI organisations.
DT: She was very open and ready to take the initiative on several projects. But these meetings have taken place recently [early 2020], so we will see if it takes shape. I have a lot of criticisms of her but I would like her to stay on. Her party has a large majority, no one can dethrone her. I would rather it be her than any other man.
I think the fact that she is the head of the government gives us an opportunity. But I don't like the way she reacts to criticism from LGBTI organisations. She should be able to accept public criticism. And apart from participating in Pride parades (a first for a head of government) and supporting Belgrade's bid to host Europride in 2022, she has done nothing so far.
Precisely, the situation being the one you describe, Dragana, you have been fighting for several years for the rights of lesbians and LGBTI people in your country and in the rest of the region. What is the impact of the Covid-19 pandemic on your activities?
DT: With ERA [LGBTI Equal Rights Association for Western Balkans and Turkey, in which Dragana is still active], since 2015 we have been trying to reach the most isolated people. Since the beginning of the health crisis, we have realised how difficult this situation has made life difficult for older people, especially lesbians over 65 years old. In Serbia, people of that age can no longer go out at all. It is very hard for them, especially for lesbians: the overwhelming majority of those we are in contact with have no family, no children, and of course they are not married [civil union and same-sex marriage are not allowed in Serbia].
I was talking to one of them recently: her friends are dead, she is completely isolated. Certainly the Serbian government has set up a volunteer system to help these people, with volunteers who can go shopping for them. But she does not feel comfortable with this system, because she fears lesbophobia, which is very present in our society. Another woman told me that she could no longer collect her pension because she or a family member has to collect it, and she had no family either.
Not only older lesbians are affected: we have received testimonies from younger lesbians through Locked-down Lesbians Listening [a daily virtual platform set up by the Eurocentralasian Lesbian Community]. Some of them lost their jobs, as many were employed in the service sector (bars, restaurants…). They can no longer pay their rent and sometimes have to return to their families, often lesbophobic. This is a dangerous situation for them because they are likely to be subjected to violence. We are in contact with more than fifty lesbians in these situations throughout the Balkans, but they are surely more numerous. Who knows how many lesbians dare not contact us. Some only call us when it is really a matter of life and death.
In addition to these difficulties, lesbians in the Balkans are also for some of them on the front line of the fight against the pandemic, like you, Milena. You are a nurse in a psychiatric hospital, outside of the pandemic, and have been working in a centre dedicated to the patients of Covid-19 since the beginning of the crisis. What does it mean for you to be a lesbian nurse in this context?
MM: I am far from being the only lesbian in this case! But the others aren't out. I don't think I'm special, I just do my job. But it's true that this pandemic is forcing people to be more open to diversity, more tolerant, especially of different sexual orientations. Every day, I have to come out because all my colleagues talk about their children, and I talk about my family too. It's a completely different situation, but they accept it. Sometimes I also ask them if they now understand what it is like to be stuck at home, as some LGBTI people normally are. They tell me that they are sorry and understand better. They had no way of knowing before what it is like, not being able to go where you want, not being able to be yourself.
One of the blind spots in the media in western Europe, and I imagine in the Balkans as well, is the impact of Covid-19 on the lives of same-sex families, particularly lesbian families. Can you tell us how the pandemic played out in your family organization, with Milena?
DT : Before the pandemic, Milena was the one who took care of the children the most. I work in a different city, and I have two jobs, I travel a lot, so I'm away a lot. Since Milena volunteered to work in the newly created Covid-19 centre, she moved to my old apartment so as not to put me and the children in danger. They don't go to school anymore, so they take online courses. I'm with them all the time, it's the exact opposite of the normal situation. It's pretty positive, from my perspective. I spend more time connecting with them.
Meanwhile, Milena, you're treating the sick. Can you tell us about your daily life?
MM: I'm exhausted. There aren't many nurses who have volunteered to work with us, many of them are on sick leave. There are only 30 of us in intensive care. It's very hard to work there because there aren't enough of us to be replaced. I don't fear for my health, but I don't know how long this can last.
DT: You should know that there are normally more than 3,000 nurses in the hospital. Only 30 are volunteers, and Milena is far from being the only lesbian. My conclusion? When shit hits the fan, lesbians are there. It's representative of their role in history. They fight but they don't get the recognition and visibility they deserve. On TV, all the people who talk are men: doctors, politicians. But if we go to see who really fights alongside patients, they are women, and often they are lesbians. I think it's important to say that.
In your opinion, is this the only blindspot in the national and regional media coverage of this pandemic?
DT : It's hard to say. Personally, I find that the media is very controlled. On TV, they say that the crisis is under control, that the government is handling the situation well, even that Serbia has the best crisis management at the European level. Citizen journalists report on the problems on the ground. Today things are better, but two weeks ago, in some hospitals, staff had only one mask for 12 hours of work. One journalist [Ana Lalić] was even arrested and imprisoned for publishing an article with testimonies from doctors and nurses. The hospital where Milena works passed a note to the nurses asking them not to speak to journalists or risk being fired.
The Covid-19 crisis has shown that we are still living in a young democracy with fragile and unstable institutions. It also revealed authoritarian tendencies, especially in the region and in Serbia, especially as regards the media. Here, politicians use the situation as an excuse to censor the media and throw journalists into prison. This did not happen until recently. I am concerned that the government is taking advantage of the state of emergency that has been established to violate human rights. Once it starts, there is no turning back.
MM: Personally, I don't think we can talk about freedom of the press as we normally do. In my work, there is no place for politics, no place for the press, there is no place for anything except taking care of people and caring for them as best we can. It's very different from what we imagine: here we're talking about saving someone's life. At the moment, we don't have time to think about anything else.
The parliamentary and municipal elections in Serbia were supposed to take place today, but they were postponed because of the situation. What impact do you think this postponement could have on the scores of right-wing and far-right parties? Is there a risk that the situation for LGBTI people in Serbia could get worse?
DT: I think the party in government will win the elections again, the crisis has not affected their popularity at all. They have probably even gained a few points since they control the media and information. I expect them to win 60% or more of the votes. I have no idea how this will affect the situation for LGBTI people. We will see, it is very difficult to predict anything in such a situation. When they arrested this journalist, I was very shocked, I thought these cases were far behind us. But in fact everything can change from one day to the next. The human rights acquired can be swept away in an instant, and we risk going backwards. This is what is happening for freedom of the press at the moment, it is possible that it will also happen for the rights of LGBTI people and women. Serbia has recently moved closer to countries such as China and Russia, which worries me very much. We have to wait and see what happens. But always be attentive, observe what is happening and be ready.