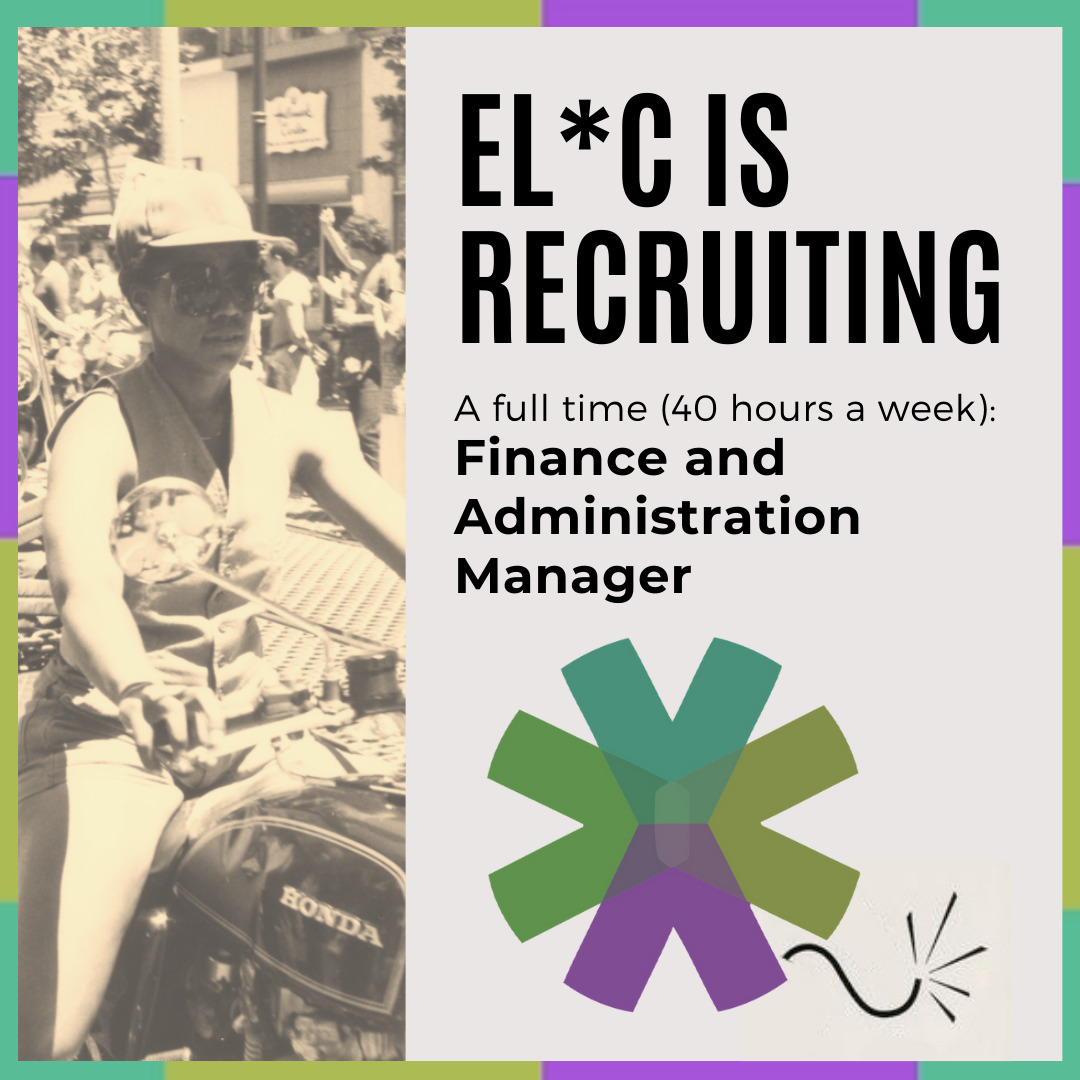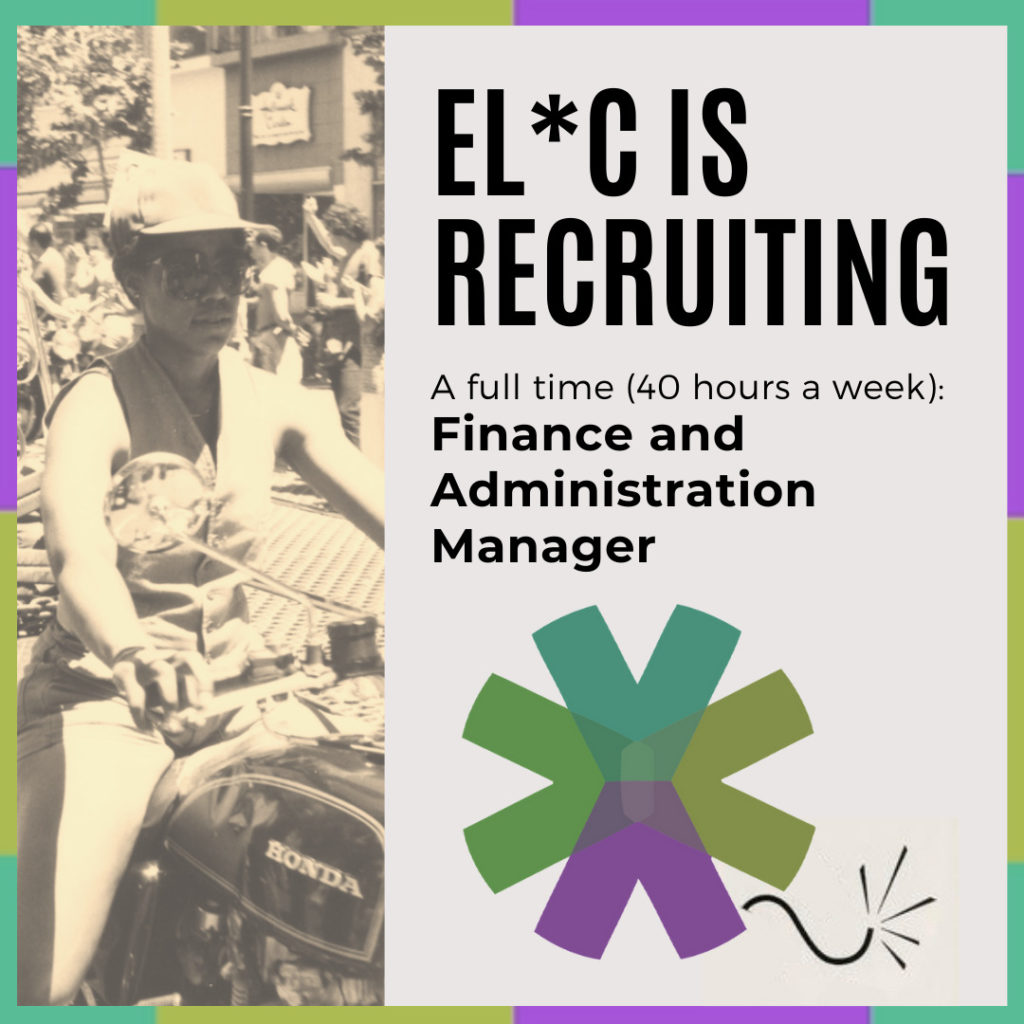 Job title: Finance and Administration Manager 
Contract duration: 1 year contract (with the possibility of extension)
Yearly salary: 48.000,00 EUR (Gross II)
Working hours: full time (40 hours a week) 
Based in: Europe or Central Asia
Work space: remote (all EL*C staff work remotely) 
EL*C Presentation:
The EL*C – EuroCentralAsian Lesbian* Community is a non-governmental organisation, representing the needs of lesbian, queer, bi and trans women and of lesbian organisations, formally established in 2017 in Vienna, Austria. EL*C aims to advocate for lesbian rights in Europe and Central Asia. EL*C has been established as a pan-European- Central Asian Lesbian Network, driven by the objective of increasing the visibility of lesbian issues in all spheres, including social, legal, health, and political ones. The EL*C was founded with the aim to improve the lives of lesbians and to (re)build the lesbian movement, as a response to the growing lack of the fundamental structures, tools and mechanisms to fight lesbophobia, sexism, misogyny, transphobia and all other types of discrimination experienced daily by lesbians.
The EL*C uses the word "lesbian" as a broad inclusive term, including lesbians who identify as trans, non-binary, as well as intersex lesbians, and bisexual or queer women.
Job summary:
The Finance and Administration Manager plays a vital for the proper running of EL*C's financial and administrative systems. The Finance and Administration Manager has a great deal of responsibility for EL*C's financial and administrative functioning under the supervision of the Executive Directors and Board, especially in dealing with enquiries, processing payments, monitoring and documenting revenues and expenses, managing cash flow, maintaining cooperation with the accountants and auditors, and providing administrative support to other staff members.
Main duties and responsibilities:
Financial administration: maintaining and improving EL*C's financial and administrative system, executing everyday financial activities including petty cash, expenses, travel order claims, and income and expenditure records, documenting and keeping financial records up to date, preparing financial reports for various donors and national financial bodies, in cooperation with the Executive Directors;
General administrative work: purchasing supplies, maintaining the functionality of the online tools and equipment, managing the inventory list of EL*C's assets, communicating with external and internal financial stakeholders in relations to membership fees, services and purchases, keeping EL*C's documentation and administration files in order, preparing materials for meetings and other events, etc.;
Members' database management: on periodic basis updating membership database, collecting membership documentation and administrating changes of member organizations;
Self-regulated learning: follow the current trends and changes in relevant Austrian financial, accounting and tax laws and bylaws in order to ensure up to date functioning of financial and administrative systems;
Other duties and responsibilities:
– Preparing monthly, quarterly and annual financial reports and assisting the Executive Directors in preparation of financial reports for the Board and the Annual General Assembly, preparing documentation for external audits, as well in all other aspects of financial and administrative work;
– Assist other employees within the scope of financial and administrative aspects of their work;
– Assist in all strategic planning sessions, staff meetings, and other relevant events;
– Assist in organising the Annual General Assembly, Conferences and other events;
– Assist, when necessary, the Board members in organising their meetings, travel and accommodation;
– Provide logistical support to all staff and Board when necessary;
PERSONAL SKILLS
Experience 
At least 5 years of professional experience in financial management and administration, ideally for international or regional non-governmental organizations; 
Essential: 
– Experience in setting up, improving and maintaining financial management and accounting systems;
– Experience in book-keeping and computerised accounting systems.
– Strong experience in reporting to different grant-making institutions/organizations in the non-governmental context;
– Extensive experience with grants funded by the European Commission;   
– Knowledge of relevant laws and by-laws in Austria;
Desirable 
– Experience in working with national, regional or international non-governmental organizations or government bodies on the topic of LBTI women's and non-binary persons' rights; 
– Experience in HR policies and procedures and administration systems;
– Experience in setting-up and managing office systems;
– Excellent IT skills, including Microsoft Office (Outlook, Word, PowerPoint and Excel);
– Good planning and organisational skills and efficient work methods;
Skills/abilities
Essential: 
– Excellent organisational and archiving skills;
– Sense of initiative and ability to be self- reliant, including ability to deliver under pressure and within tight deadlines;
– Ability to analyse, synthesize and keep track of complex administration material;    
– Strong interpersonal skills, in particular ability to work well within a team and in a multicultural context;
– Demonstrated intersectional feminist background;
– Fluency in English; 
– Computer literacy
The following skills are an asset:
– Knowledge of additional languages, especially German;
– Personal experience of being part of an oppressed social group;
– Good at dealing with Dyke Dramas 😉
JOB CONTEXT 
The EL*C Team 
The successful applicant will be part of a team of 6 persons. They will liaise with a network of very diverse national and international NGOs in Europe and Central Asia.
Contract/Working Hours 
The successful applicant will receive a full-time 1 year contract (with a possibility of extension) to work 40 hours a week over 5 working days. 
Special conditions: 
Available to work irregular hours (i.e: occasional weekend meetings, occasional meetings in the evening, etc.), time off in lieu is provided. Availability to travel. 
Remuneration Package 
The person will be employed under their national residency law. The Gross II salary (CTC – cost to company) applicable to this position is 48.000,00 EUR (Gross II) per year.
HOW TO APPLY?
Please send your CV and a cover letter (no more than 2 pages) which outlines why you would be a good fit for the position and for EL*C to the following e-mail address: squad@lesbiangenius.net
Please send us 2 contacts from your ex-girlfriends.. no, we are joking, from your previous work references.
The closing date will be 11.00pm CET the 13th February 2022 and the interviews will be held via Zoom, on February 24 and 25th 2022. 
We are an equal opportunities employer and will provide any necessary assistance to applicants with any special requirements to participate equally in the selection process.