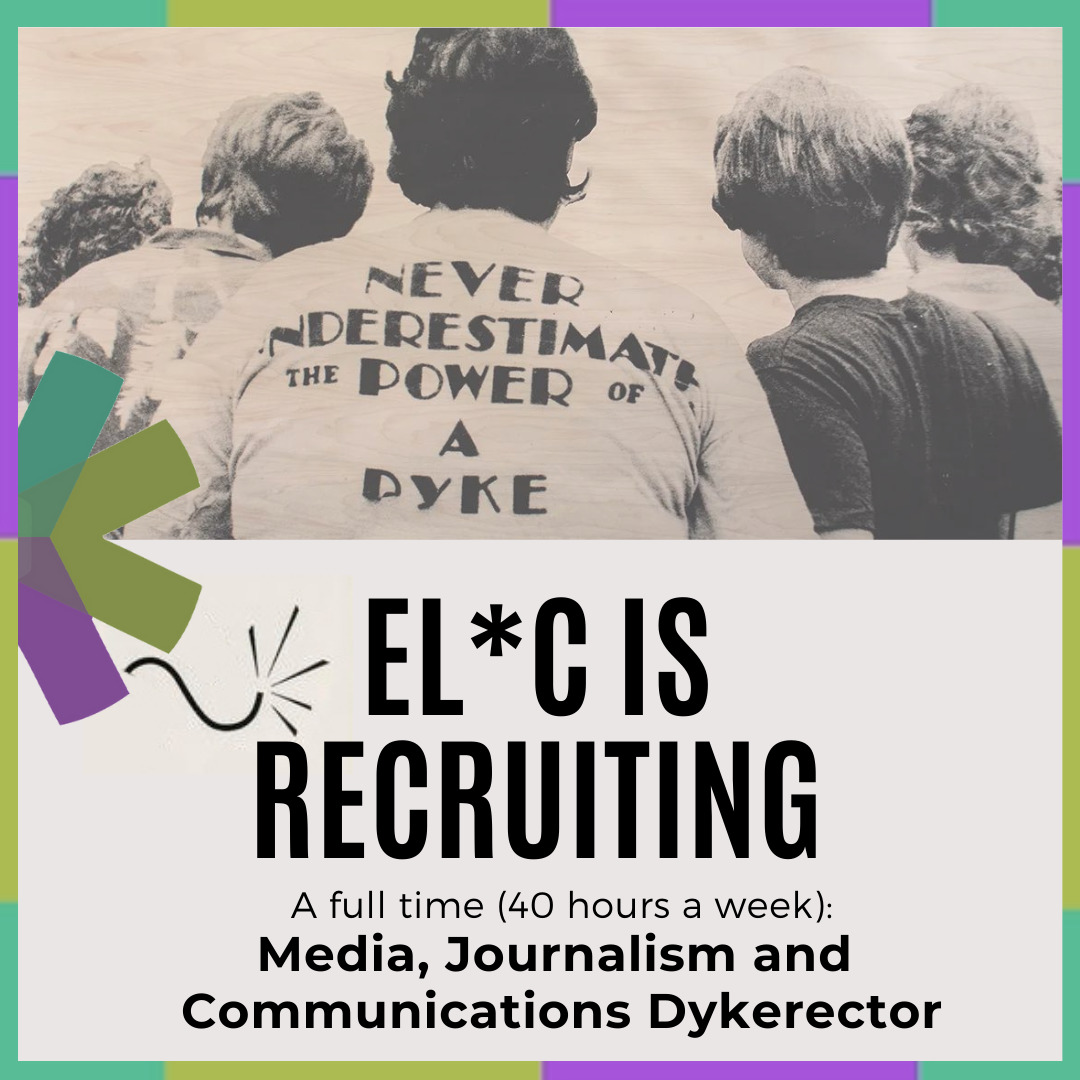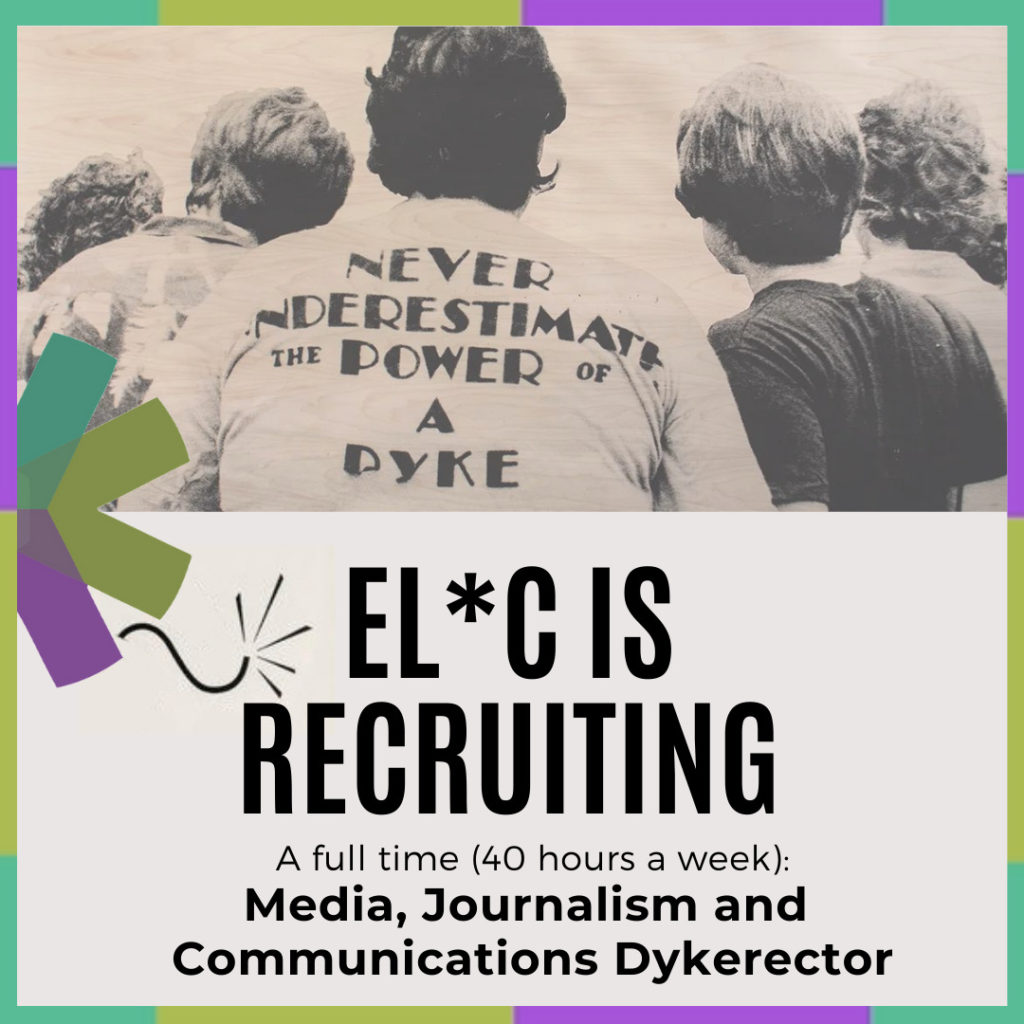 Job title: Media, Journalism and Communications Dykerector 
Contract duration: 1 year contract  (with the possibility of extension)
Yearly salary: from 48.000,00 to 66.000 EUR (Gross II)
Working hours: full time (40 hours a week) 
Based in: Europe or Central Asia
Work space: remote (all EL*C staff work remotely) 
EL*C Presentation:
The EL*C – EuroCentralAsian Lesbian* Community is a non-governmental organisation, representing the needs of lesbian, queer, bi and trans women and of lesbian organisations, formally established in 2017 in Vienna, Austria. EL*C aims to advocate for lesbian rights in Europe and Central Asia. EL*C has been established as a pan-European- Central Asian Lesbian Network, driven by the objective of increasing the visibility of lesbian issues in all spheres, including social, legal, health, and political ones. The EL*C was founded with the aim to improve the lives of lesbians and to (re)build the lesbian movement, as a response to the growing lack of the fundamental structures, tools and mechanisms to fight lesbophobia, sexism, misogyny, transphobia and all other types of discrimination experienced daily by lesbians.
The EL*C uses the word "lesbian" as a broad inclusive term, including lesbians who identify as trans, non-binary, as well as intersex lesbians, and bisexual or queer women.
EL*C & Media Activism 
From the start, media and communication have been one of the main pillars of  EL*C's work. On the one hand, lesbians are still invisible in all domains and the word "lesbian" in itself has still a derogatory connotation. Either because it is considered a slur, conveying shame and pain, or because it is associated with pornography, making social media and internet research engines censoring this specific word. On the other hand, since the beginning, the EL*C group was composed by media activists with great experience in utilizing media and communication technologies for social and political movements, publishing news on EL*C website, creating video and audio investigations, spreading information about protests, or organizing campaigns relating to media and communications policies, enhancing the creation of communities online over specific issues and social connections.
EL*C's media strategy uses the coverage of traditional mass media outlets in order to gain significant traction in lesbian visibility struggles. Today, hundreds of articles and videos mention EL*C all over the world, including big national outlets like the Corriere della Sera, the National Geographic, Vice, Kyivpost, Euronews, Rusnext, Le Monde, Bild, EL Pais, Fox News, The Washington Post, and many more. For more information, check out EL*C online Press Review: https://europeanlesbianconference.org/elc-in-the-media-press-review/.
Job summary:
The Media, Communications and Outreach Dykerector is responsible for enabling effective and efficient external and internal communications and for providing editorial, strategic, creative and operational support across the organization. This position reports to the Executive Co – Directors and plays a key role in ensuring that EL*C's communications are both informative and influential for the full range of stakeholders. 
– Communicating how amazing EL*C is
– Increasing reach and membership  
In addition, this position is also in charge of media and press relations, as well as for maintaining social media accounts, and other online platforms of communication. This position will have a crucial role in developing and strengthening visibility for EL*C  and in contributing to the overall success of the organisation, particularly in relation to communication and dissemination of EL*C activities and projects.
MEDIA
– What we are looking for is a lesbian genius aware of the media landscape in Europe and Central Asia (at least certains parts of it), with a strong network of journalists, and able to get media pieces on EL*C published and broadcasted as often as possible. 
– We want you to be able to feel the international news and understand how to infiltrate some lesbian contents in it. 
ACTIVISM
– If the current news is not enough, we want you to be able to create the news and conceive lesbian political actions bound to make the headlines. 
SOCIAL MEDIA
– We need a dykerector with a strong presence on the social media so as to promote our actions, reports and events and interacts with journalists and media accounts .
Main duties and responsibilities:
To improve EL*C and in general lesbian visibility: in close cooperation with the Executive Co-Directors supports development of external and internal communication policies and procedures; establishes internal and external relations; 
Develops and implements visibility strategy and action plan; maintains social media accounts, maintains and improves EL*C's website, develops innovative and diversified communication platforms in relations to stakeholders (newsletters, forums, mobile applications etc.), develops and manages media database, maintains good relationships with media representatives;
Develops, manages, updates and writes rich and creative content for different media and visibility platforms; performs press clippings, media monitoring, and media analysis on a regular basis, represents EL*C on local, regional, European and international levels, in close cooperation with the three Executive Co-Directors;
Other duties and responsibilities:
– Assist all staff members in their day-to-day activities in areas concerning communication, public events and advocacy.
– Assist in all activities related to publications and their distribution;
– Assist in preparations of the EL*C Annual General Assembly and Conferences in relation to communication and publicity activities;
– Assist in all strategic planning sessions, staff meetings, and other relevant meetings;
– Assist, when necessary the Board members in their regular work in relation to  communications activities;
– Assist member organizations in their communication capacity building processes;
– Represent EL*C: to act as a spokesperson when needed, represent EL*C and its activities on local, national, regional, European and international levels;
– Assists in capacity building programs relating to communications;
– Track, evaluate and report on social media interactions on a regular basis
PERSONAL SKILLS
Experience 
At least 5 years of journalism, media strategy and communications work whether professional or as a volunteer;
Essential: 
– Keen awareness of current events and trends that relate to a target audience's interests (preferably with international scope)
– Very solid experience in producing Newsletters, Press Releases, press kits, webcontent, writing editorials and articles;
– Strong knowledge of Social media management (production, engagement & social media kit development)
– Advanced computer knowledge (Office, Keynote, Canva, Photoshop, WordPress, etc);
– Excellent written, verbal, and presentation skills;
– Experience in articulating strategy, rationale, and ideas;
– Experience with media planning and buying and using different online tools;
– Experience working on experiential programs, content creation, and new media platforms;
– Open to travel as necessary;
– Digitally connected with an insatiable curiosity;
Desirable 
– Knowledge of international standards regarding LGBTI and feminist policies, as well as social policies
– Experience working with Civil Society and NGOs in Europe and Central Asia, including umbrella NGOs and Networks
– Experience in working with national or international NGO's or governments tackling LBTI women and non-binary persons' rights 
– Experience in national media, communication and campaigning work 
– Strong presence on social media (certified account would be a plus)
– Ability for editing videos
Skills/abilities
Essential: 
– Strong appetite for new technology, emerging platforms, pop culture, and everything in between;
– Excellent organisation and coordination skills;
– Desire to learn more of the trends shaping lesbian communities' behavior and general public towards lesbian topics today, in the past and in the future;
– Sense of initiative and ability to be self supporting, including ability to deliver under pressure and within tight deadlines;
– Strong critical thinking skills for efficient campaign development strategizing;
– Curiosity combined with the ability to translate intelligence and ideas is essential;
– Strong communication capacities to accurately convey the vision of a campaign to creative teams and executives, as well as to discuss budget concerns;
– Strong organizational, interpersonal, and project management skills;
– Ability to analyse, synthesize complex material;
– Ability to build relationships with the European and central asian media and journalists but also with LGBTI networks and alliances;       
– Strong interpersonal skills, in particular ability to work well within a small team and in a multicultural context;
– Demonstrated intersectional feminist and antiracist background; 
– Excellent English;
– Good knowledge of another European or Central Asian language;
– Computer literacy
The following skills are an asset:
– Familiarity with human rights / social justice linguo ('GBV' 'feminicide' 'lesbophobia' 'anti-gender movement') 
– Familiarity / sensitivity around experiences of human rights defenders / ability to communicate around human rights abuses faced by community members swiftly 
– Knowledge of lesbian specific media outlets (online, print, podcasts) 
– Ability to propose methods to interact with different audiences depending on age, ability etc (podcasts, reports, campaigns, radio) 
– Ability to adapt language / communication depending on stakeholder / audience (high level vs community oriented) 
– Design & creative skills in image and visual production (CANVA or other) 
– Video editing skills 
– Interest in inclusive writing styles 
– Knowledge in making output accessible (hard of hearing or short sighted, ASL etc) 
– Ability to come up with catchy slogans, phrases and titles (for events, reports, talks) 
– Knowledge of additional spoken/written languages 
– Online facilitation skills 
– Personal experience of being part of an oppressed minority
– Good at dealing with Dyke Dramas 😉
JOB CONTEXT 
The EL*C Team 
The person will be part of a team of 6 persons. They will liaise with a network of very diverse national and international NGOs (more than 50 organizations) in Europe and Central Asia.
Contract/Working Hours 
The successful applicant will receive a full-time 1 year contract to work 40 hours a week over 5 days. 
Special conditions: 
Available to work irregular hours (i.e: occasional weekend meetings, occasional meetings in the evening, etc.), time off in lieu is provided. Availability to travel frequently. 
Remuneration Package 
The person will be employed under their national residency law. The Gross II salary (CTC – cost to company) applicable to this position is from 48.000,00 to 66.000 EUR (Gross II) per year.
HOW TO APPLY?
Please send us (to the following e-mail address: squad@lesbiangenius.net):
– Your CV;
– A cover letter (no more than 1 page) which outlines why you would be a good fit for the position and for EL*C. Please add to your cover letter an analysis of how you feel EL*C and the lesbians are being dealt with by the media and how we could improve this;
– A short example of your work (an article, a blog/podcast, a book, or press release you are the author of;  articles or media piece you contributed to get published; or big actions in activism you contributed to and were published in the media etc.);
– A small "audit" of your social media accounts (how many followers, are you followed by big accounts?). Please underline if you are followed by journalists or media outlets;
– A small exercise: We are going to organize our third conference in a EU eastern country. Can you write the 10 actions you will put in place before, during and after the conference to ensure great media coverage?
– Please send us also 2 contacts from your ex-girlfriends.. no, we are joking, from your previous work references.
The closing date will be 11.00pm CET the 13th February 2022 and the interviews will be held via Zoom, on February 24 and 25th 2022. 
We are an equal opportunities employer and will provide any necessary assistance to applicants with any special requirements to participate equally in the selection process.