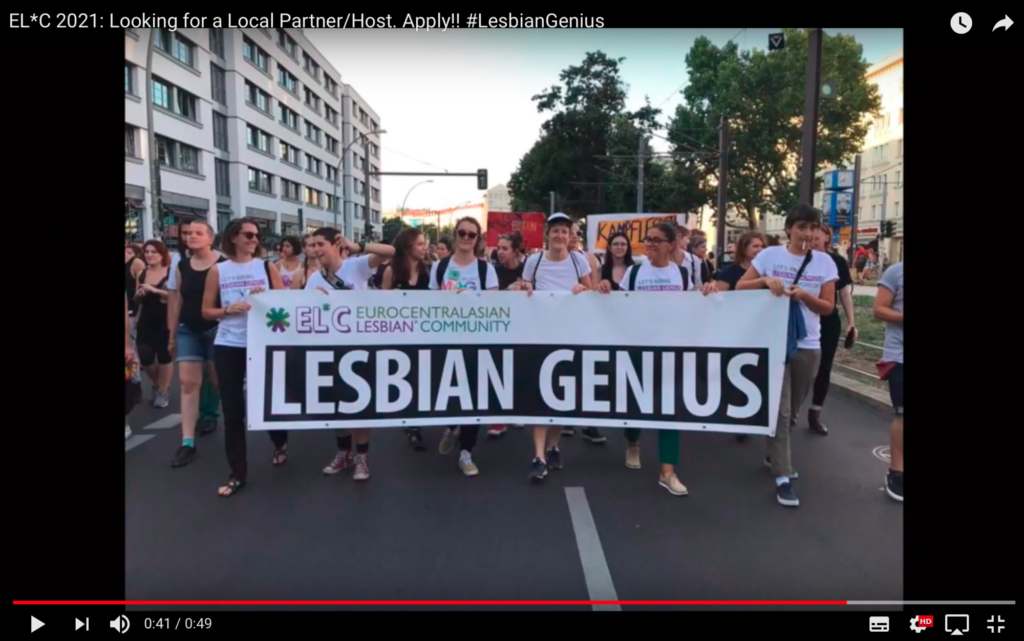 EL*C 2021 conference – local partner application form
>>> Deadline for submitting the application: December 22, 2019 <<<
The European-Central Asian Lesbian* Community (EL*C) is a collective of lesbian, queer, bi and trans women registered as an NGO, which aims to advocate for lesbian rights in Europe and Central Asia. Driven by the objective of increasing visibility of lesbian issues in all spheres, including the social, legal, health, and political ones, the EL*C as an NGO has worked during the last three years towards the establishment of a pan-European-Central Asian Lesbian network.
Our two conferences so far, in Vienna/Austria (October 2017) and most recently in Kyiv/Ukraine (April 2019), represent initial key steps in the long-expected and much needed construction of a strong lesbian movement in Europe & Central Asia that brings together a diverse team.
While building and formally establishing this Network for Europe and Central Asia, we do not forget that EL*C started as a conference, and do not lose sight of the significance of this politically defining biennial event.
As such, the EL*C team members are beyond excited to open this call and invite activists in Europe and Central Asia to dream big with us for this 3rd EL*C conference, to unleash more lesbian genius upon the world.
The next conference is due to take place in 2021 (Spring or Fall). Prior to applying please consider the following:
> Applicants may be NGOs, consortium of NGOs, informal networks, or any entity or structure committed to promoting the rights of lesbians and which can demonstrate that its leadership involves lesbians;
> Due to the foreseen workload, our partners should be in a position to work with us on a weekly basis in the year before the event, and on a daily basis in the weeks leading up to the conference;
> It would be required that at least one main contact person within the partner organisation(s) speaks English in order to facilitate coordination;
> The conference is an opportunity to bring about substantial political impact; as such, EL*C strongly encourages proposals from Southern Europe, the Balkans, Central and Eastern Europe, as well as Central Asia.
We look forward to your proposals and can't wait to see where this new journey will take us!
>>> APPLY HERE <<<